Treasure Island makes repairs after storms cause erosion
Kailey Tracy reports
TREASURE ISLAND, Fla. – Crews in Treasure Island Monday started removing two dune walkovers they said Hurricane Ian and Tropical Storm Nicole damaged beyond repair.
Public works crews said Nicole specifically took more sand from part of Sunset Beach than they've lost in recent history.
"Previously, we'd lose maybe one or two feet at any given time, and it has clearly been way worse for this past storm for Nicole and then the previous one before that, way worse, just really bad," Kevin McAlduff, a crew chief with Treasure Island Public Works, said.
MORE: Risk of beach erosion seen on Florida's east coast after Nicole exists in Tampa Bay area, engineers say
"Before, we'd have damage to these walkovers, and we'd be able to repair them just because we lost one or two feet of sand, and now we've lost close to five or six feet. It has shown us so much rot in these walkovers that they're not repairable at least to this point, so we're just going to go ahead and tear them out. They're sagging. They're a danger, super unsafe," he said.
2 Daytona Beach hotels crumble into ocean during Tropical Storm Nicole
Drone footage recorded by Greg Walck captures the damage done by strong waves near the Hawaiian Inn Beach Resort and Ocean Court Motel due to Storm Nicole, as structures are seen collapsed and large pieces of debris litter the surroundings. COURTESY: Greg Walck via Storyful
McAlduff has lived in Treasure Island his whole life. He said he has never seen the beach this bad.
"It was jaw-dropping. We knew we were going to get some kind of surge, and I don't think we expected anything like this. We thought we might lose another foot or two and collectively between the storms that we've had, it's just devastating for this part of our beach," McAlduff said.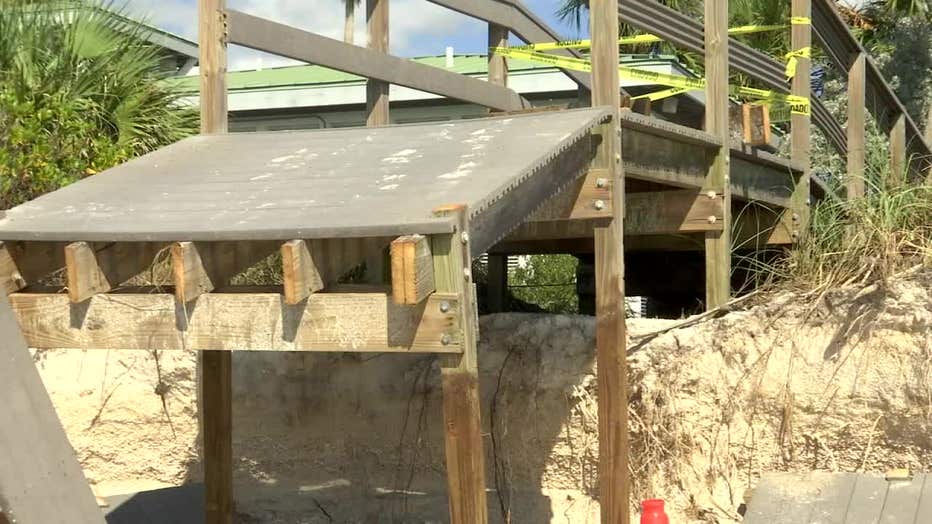 That part of Treasure Island, Sunset Beach, depends on sand replenishment every four to five years due to regular erosion. The last renourishment was done in 2019, and the next one, which is partially federally funded according to the Army Corps of Engineers, is scheduled to start in September of next year.
Nearly 60-year-old South Florida pier partially collapses after Nicole makes landfall
A fishing pier in Broward County was partially swept away early Thursday morning when Nicole made landfall as a hurricane. The remaining portion of the pier suffered extensive damage, with many planks and railings missing.
RELATED: Hurricane Nicole unearths possible burial ground on Florida beach; multiple human remains found, sheriff says
It will wrap up in May 2024 and is supposed to raise the shoreline. Pinellas County is the nonfederal sponsor on the project.
Treasure Island has undergone close to a dozen beach renourishments, according to the Army Corps of Engineers.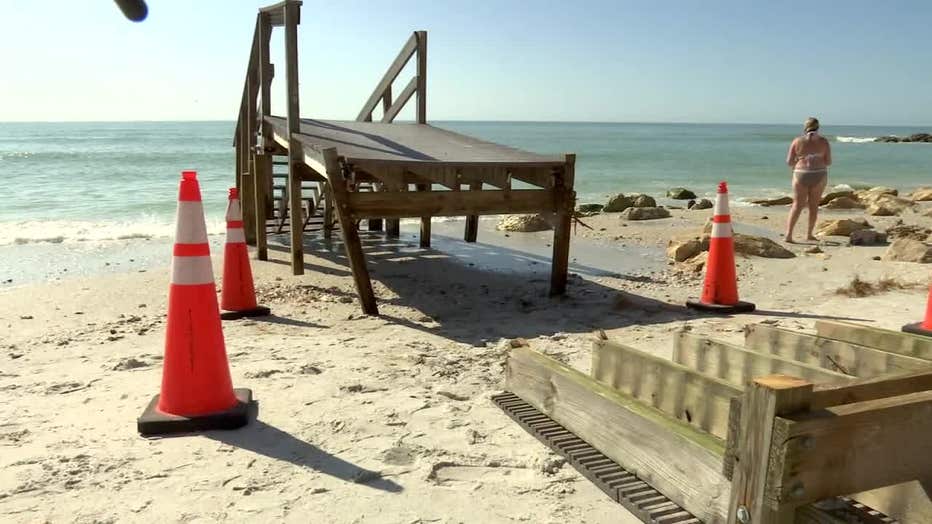 According to John Bishop, Pinellas County Coastal Management Coordinator, due to the lowering of the water level during Hurricane Ian, the beach was eroded below the waterline out of view. 
He said county officials are still investigating Tropical Storm Nicole's impacts, but it looks like Nicole caused some additional erosion along Sunset Beach.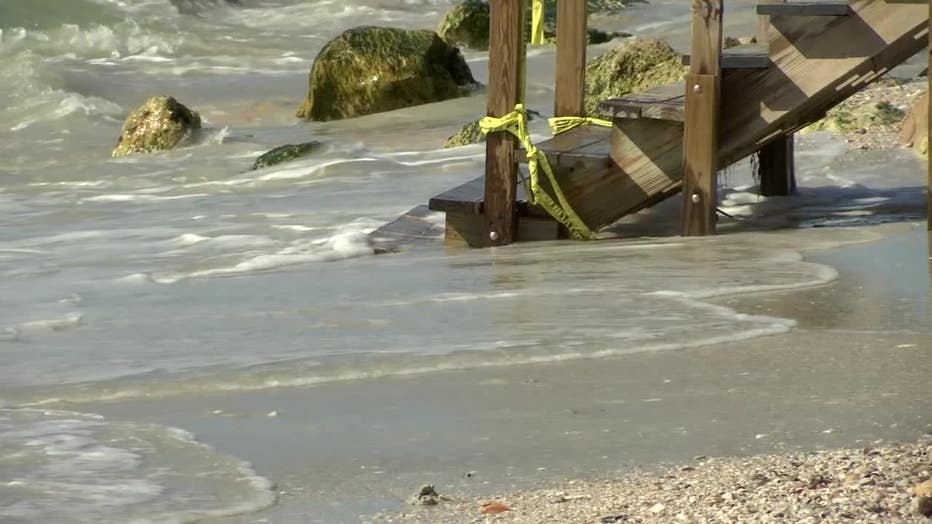 Bishop said the next beach renourishment project is in the design phase. He said the beach nourishment project costs for Treasure Island and Long Key, which is included in the project too, is expected to be about $24 million. The Army Corps of Engineers will pay about 64 to 65%. 
Nicole destroys Daytona Beach Shores hotel deck
Video from Nicole Huebener shows heavy damage done to the Dream Inn Daytona Beach Shores after Tropical Storm Nicole. Via Storyful
The remaining costs will be split between the county and the state. The county's portion will come from the Tourist Development Council funds, Bishop said.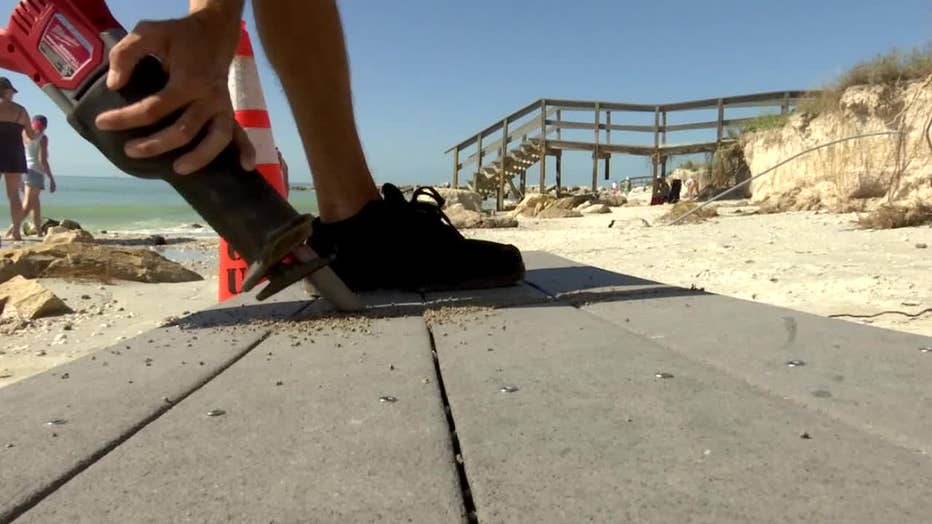 The project will include Sunset Beach and Sunshine Beach in Treasure Island, and Upham and Pass-a-grille Beach in St. Pete Beach. 
"This is a very short part of the beach and any time we get any type of erosion it's just terrible," McAlduff said.
City officials in Treasure Island said they'll most likely replace the dune walkovers that had to be removed after the renourishment project is completed.